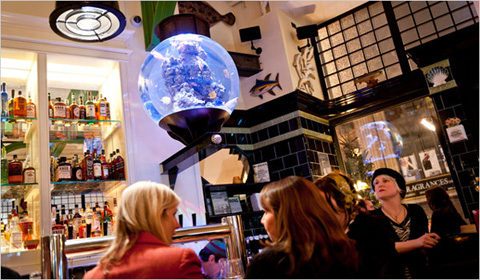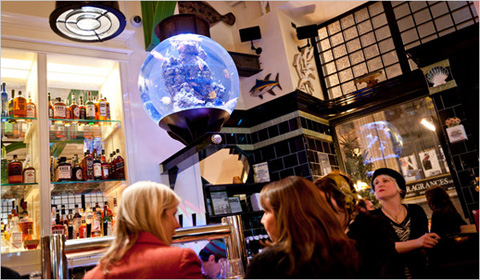 The John Dory Oyster Bar opened in November in the uber-trendy Ace Hotel, joining The Breslin and Stumptown Coffee in what has become a holy trinity of Gramercy's new food and beverage destinations. Like The Breslin, The JDOB is the brainchild of chef April Bloomfield and restaurateur Ken Friedman. Indeed, it is their second such venture into deepwater territory; the first JDOB in the Far West Chelsea was a much more ambitious endeavor that never really took off, perhaps due to its size or location.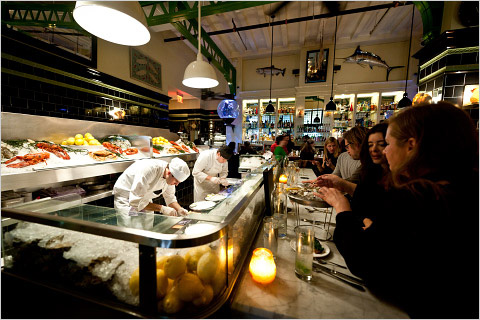 The John Dory 2.0 is located on the corner of Broadway and 29th Street in the Flatiron district of Manhattan. Floor to ceiling windows are trimmed with high bars and accompanying stools and the central dining area is filled with high tables. The most coveted seats are five stools that trim the raw bar, where oysters and clams are shucked and cold Dungeness crab is plated. For such a front row view, be patient, lucky, or a hotel guest. The John Dory doesn't accept reservations, except for those staying at the Ace Hotel.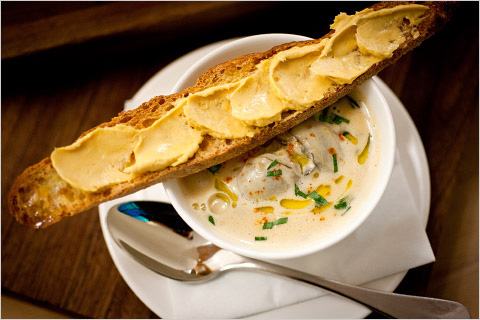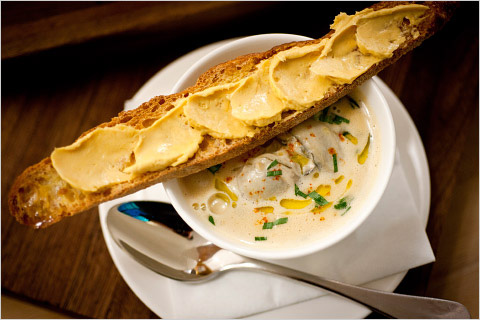 The John Dory's menu is divided into four sections: raw bar, crudo, bar snacks and small plates. The obvious attraction is the raw bar, with its impressive selection of east and west coast oysters, which changes with market availability, but the crudo dishes are also excellent. On a recent trip, the razor clam ceviche, sweet and tangy, was superlative. The chorizo stuffed squid with smoked tomato and oyster pan roast with sea urchin roe crostini, both from the small plates menu, were also excellent.
The France-heavy wine list is joined by bottles from Spain, Italy, Austria, and the New World. The JDOB also features two New York State wines on tap and a large selection of local beers.
The John Dory Oyster Bar. 1196 Broadway. Tel. (212) 792-9000 (Open from noon-2am)
Foto: Evan Sung for The New York Times