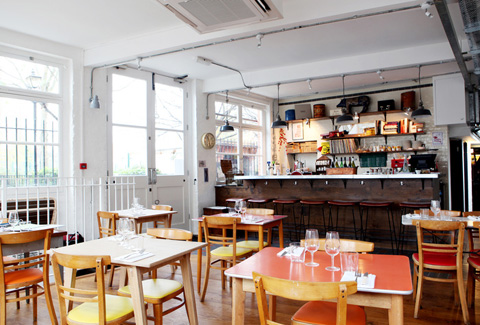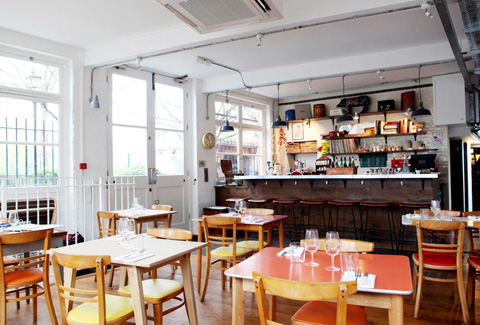 It's hard to define the food at Brawn on Columbia Road in East London. French-ish tapas with an Italian twist? France, Spain and Italy collide in East London? Bethnal Green's vendiagram of Franco-Italo-Spanish snacks? Whatever the best explanation, one thing is quite clear: Brawn serves consistently good dishes made from fine ingredients.
The menu is divided into sections with somewhat quirky names (this theme will recur on the wine list). Among the "Taste Ticklers", there is Nduja, Brandade, and Saucisses Seche. Another category dubbed simply "Pig" offers Jesus salami from Basque Country, Parma ham, Lardo di Colonnata, pork rilette and terrine.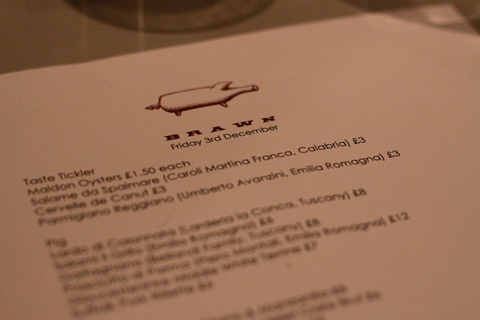 On a recent visit, I stuck mainly to the "Plancha" section. Dorset clams with lemon and coriander were pleasantly citrusy and the coriander provided a tasty alternative to the more traditional parsley.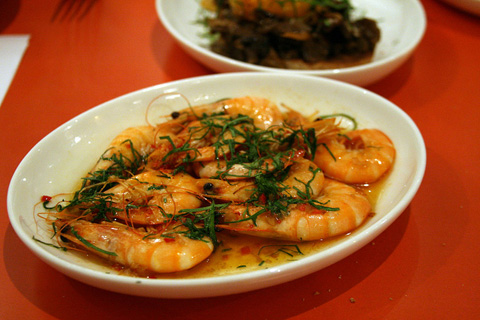 King prawns with chili and gremolata were cooked to perfection and infused with the spices and flavors of their accompanying sauce. Spatchcock'd quail, that is butterflied and flattened, was succulent and garnished with pomegranate and pistachios. Another winning dish was chanterelles and warm duck egg yolk on toast. A hint of citrus (I presume the chopped leaves were coriander) provided a fitting counterpoint to the buttery mushrooms and slick egg yolk.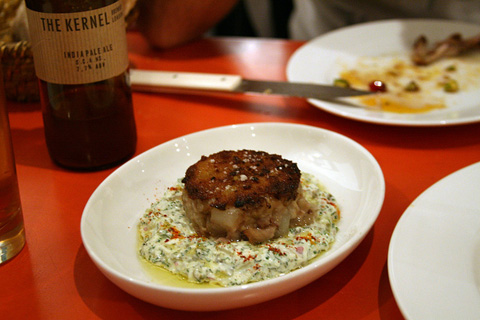 The pig trotter, gelatinous and greasy, was served on a bed of Sauce Gribiche. The combo was a bit over the top and left me in desperate need of a palate cleanser. So I downed my Kernel IPA and half a bottle of water and made way to the dessert: a rich chocolate mousse and rhubarb crumble with custard.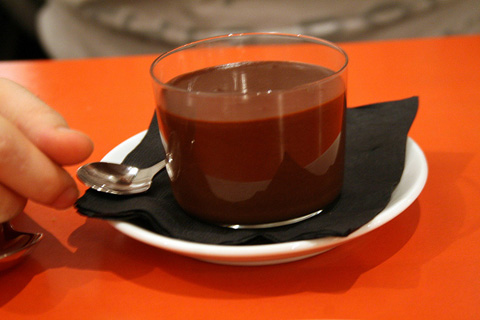 I didn't delve into the wine list, sticking to my southeast London brewer of choice, but I skimmed through it and found bottle divided by style ("Vins de Soif", "Volcano", "Stones, Shells & Sea", "Clean Lines") rather than region. There was sparkling, white and red wine by the glass, as well as distilled liquors from Maison Laurent Cazottes. Ciders are sourced from the legendary Éric Bordelet.
Brawn. 49 Columbia Road. London E2 7RG. +44 (0) 2077295692
Open for lunch and dinner Monday through Saturday. Sunday lunch only (set menu of 25 GBP from noon-4pm). The bar is open noon-11pm Monday-Saturday, Sundays noon-4pm.