My story goes something like this: an American who was inspired by a Spanish chef to spend her summer working with a German in Italy. Does that make sense? There were actually several factors that motivated me to spend my summer in Oliver Glowig's kitchen, many of which stemmed from a particular experience I had in Spain earlier this year. While living in Barcelona for a few months, I had the opportunity to attend the début of the documentary film El Bulli: Cooking in Progress. The film gives an in-depth, behind-the-scenes look at what Ferran Adria has actually been doing for the last 30 years: cooking.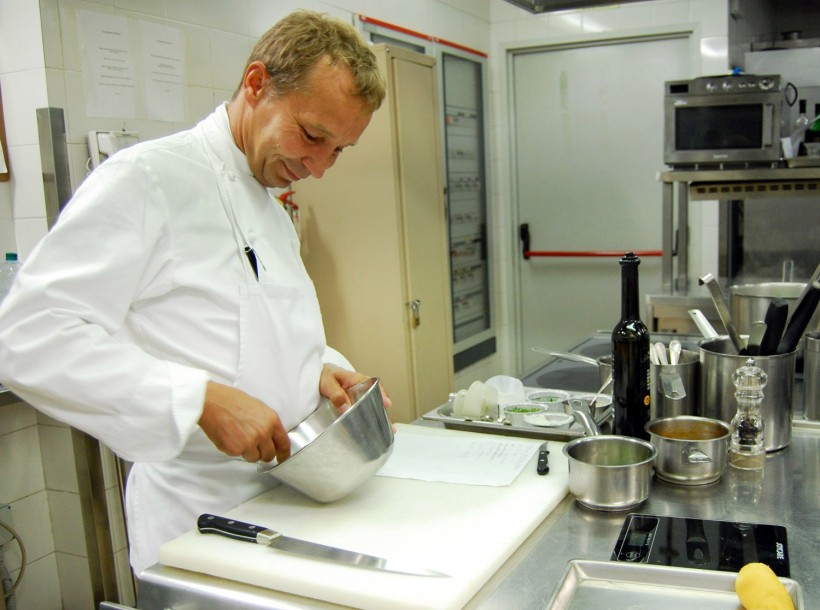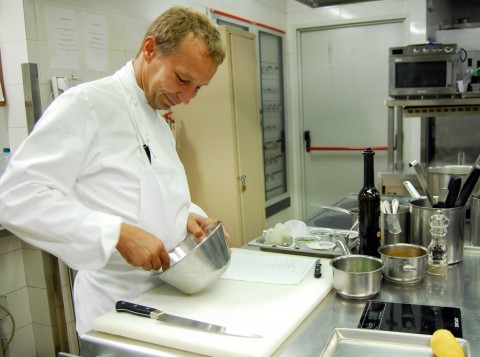 Actually, more often than not, Adria was tasting food that had been prepared by his team of chefs. Nevertheless, I was struck by the authenticity of Adria working in his kitchen, worlds away from the fame and celebrity awaiting him outside. The film got me thinking about the media's representation of top chefs, which usually bares no resemblance to what they actually do within the complex structure of their work. Soon after the film, I came across an article on Chef Glowig, which had been published while he was still at his famous restaurant in Capri. As I contemplated photos of the restaurant's dining room — whose clientele included guests such as Gwyneth Paltrow and Donatella Versace — the only thing on my mind was what it might be like inside the kitchen.
I decided that the best way to truly understand the world of Michelin-starred haute cuisine was to experience it first hand. So when I found out that Glowig had moved to Rome to open his restaurant at the Aldrovandi Palace, I knew what I had to do. I wrote the chef a letter, explaining my experience and stating my interest in doing a "culinary stage" in his kitchen. A few weeks later the Aldrovandi contacted me with good news: the chef had agreed. And the next thing I knew, I was living in Rome.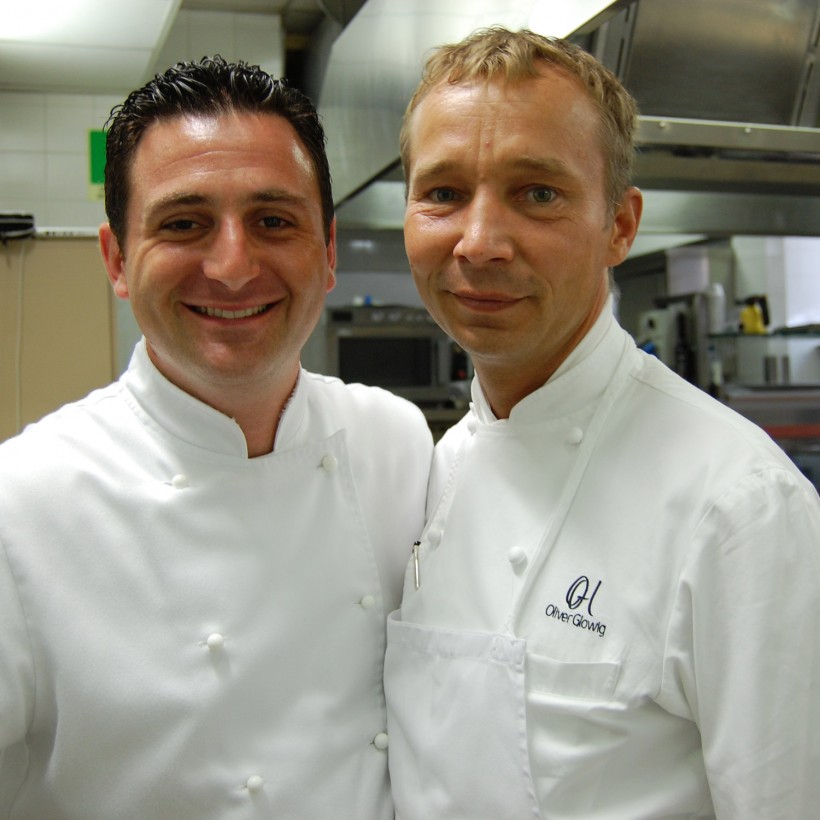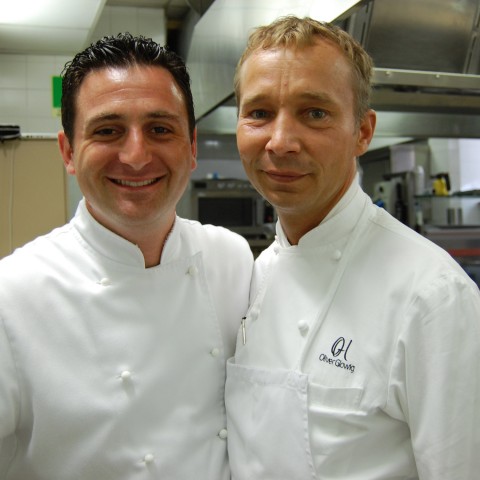 My first day in chef Glowig's kitchen at the Aldrovandi Palace was both exciting and terrifying. As the only (American) female in an all (Neapolitan) male kitchen, it goes without saying that I had some concerns as to whether or not I could hold my own. Within hours of my arrival I was confronted by an immediate yet unforeseen challenge: communication. After almost four years in Italy, the thought that I would have a hard time understanding the language hadn't crossed my mind. But in the fast-paced flow of the kitchen, I often found myself unable to comprehend.
I also had to adjust to the level of perfection that was suddenly surrounding me. The transition from a domestic kitchen to chef Glowig's was like upgrading from an old Fiat to a Maserati. In my case, I found that upgrading to perfection wasn't as easy as I'd hoped. My miniscule vegetable cubes were too big for the brunoise and my vegetables tournée looked like they'd been chopped with a hatchet.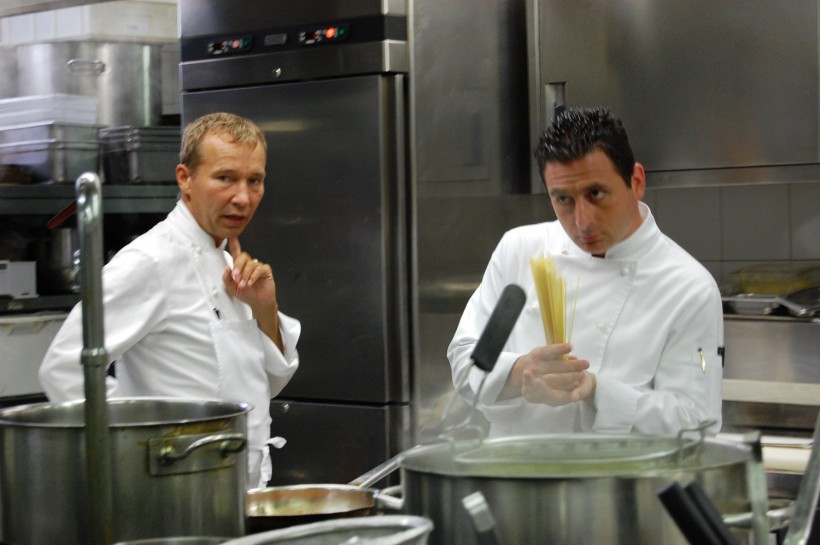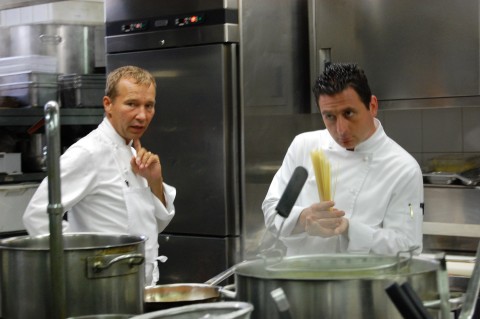 The first time I used the juicer, I forgot to empty the machine — which, of course, overflowed — shooting out green bean shrapnel and dark clouds of smoke (fortunately, the chef was not witness to this last event). Yet every time I was convinced to have made an unforgivable error, the guys in the kitchen reassured me, saying, "It happens, Cait. Don't worry, you'll get it next time".
I did eventually get the hang of things. After the first week or so, I was able to relax and work my way around the kitchen with ease. More importantly, I was finally able to observe the chef and admire his dishes, which I had memorized before starting yet forgotten among the chaos of adjusting to my position. The summer's menu included dishes that the chef has been preparing for years (and that helped him earn his second Michelin star at the Capri Palace) such as his signature ravioli di Capri — pillows of pasta filled with caciota cheese and marjoram, coated with tomato sauce and served with a garnishing of basil.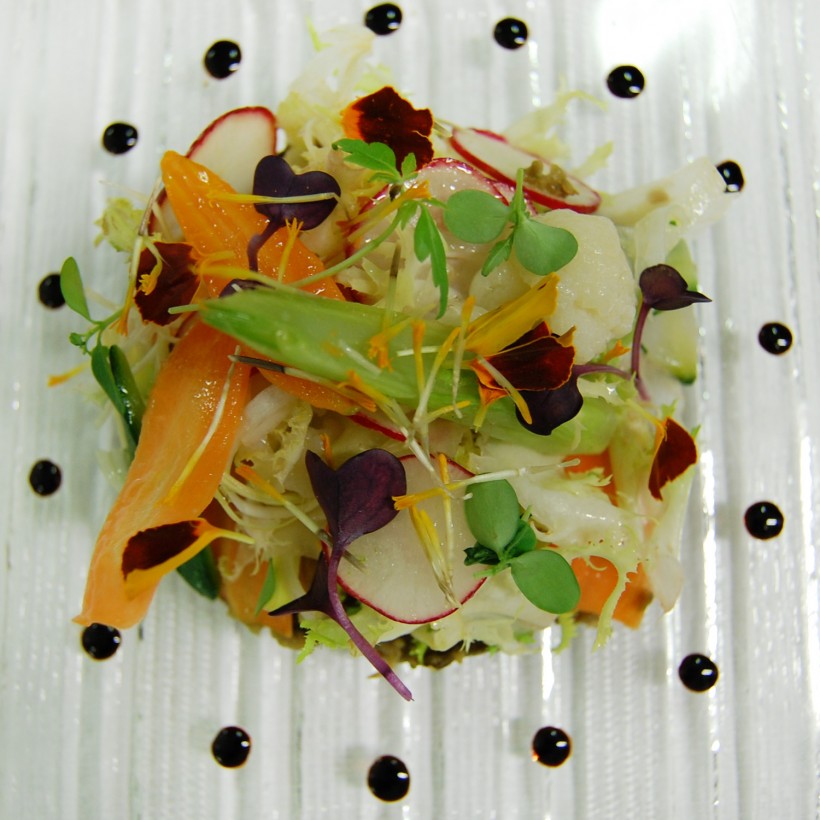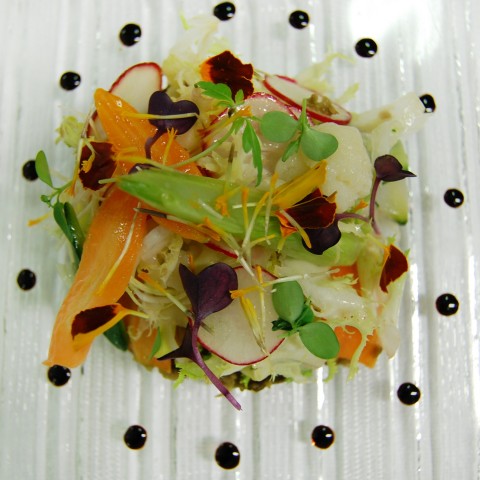 Besides the baccalà tripe with crunchy pancetta, ricotta and beans, guests dined on antipasti such as a Fassona beef tartare with buffalo mozzarella and anchovies — an enjoyable albeit unexpected pairing of ingredients. Then there was the "cotto e crudo"a delicate mix of cooked and raw vegetables with fresh flowers and baba ghanouj, whose charm reminded me of Michel Bras famous dish, Gargouillou.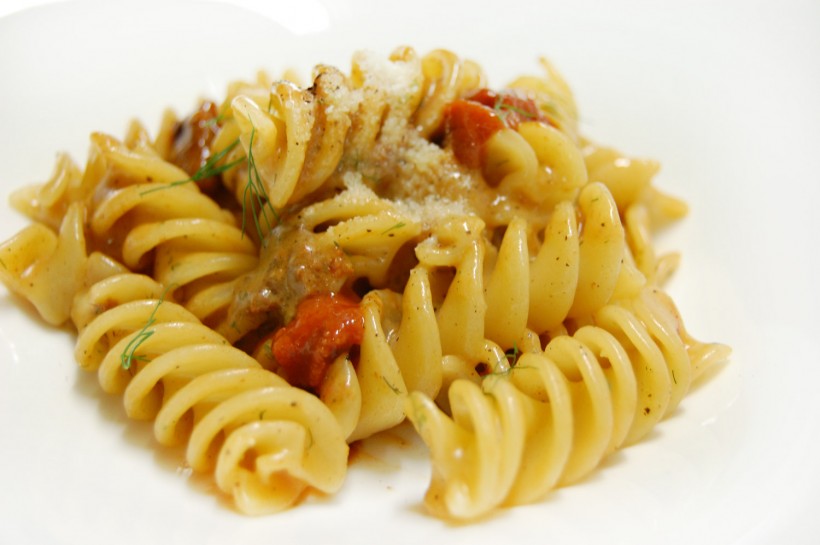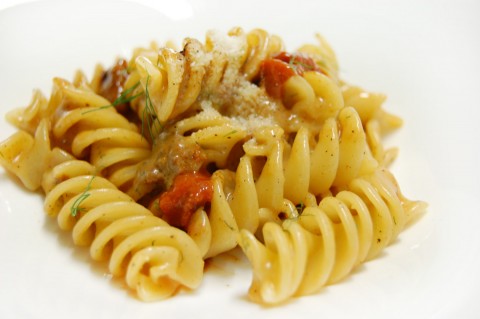 The menu also featured Roman-inspired creations, such as the chef Glowig's take on the traditional "cacio e pepe", in which the recipe's staple ingredients cling to giant pasta spirals topped with sea urchin. The oxtail ravioli with licorice sauce is another example of the fusion of tradition and innovation that defines chef Glowig's cuisine.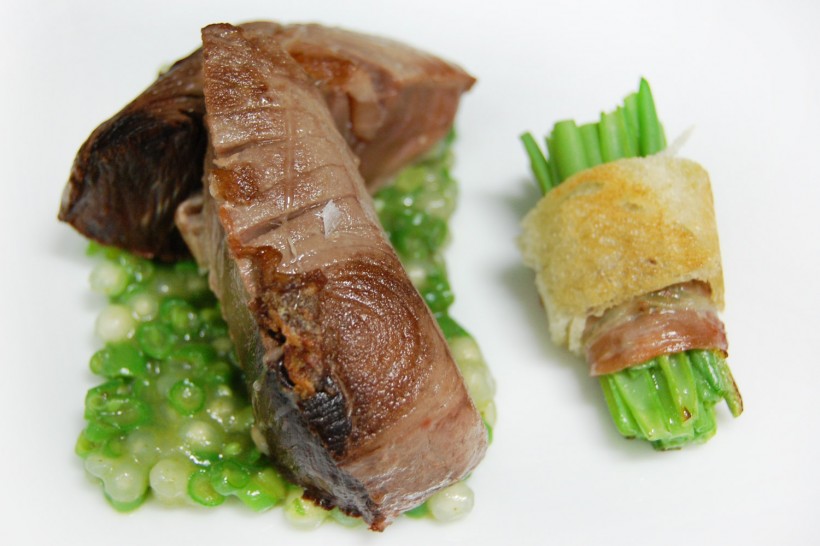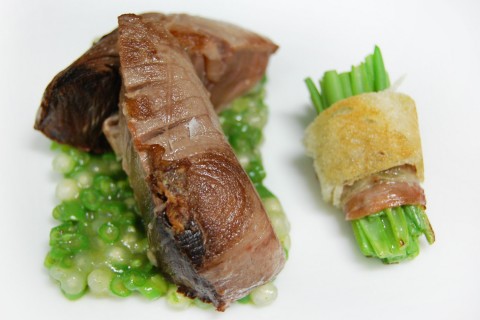 One of my favorite dishes was the provolone-stuffed sea tuna atop a puree of green beans and tapioca, served with green beans wrapped in thinly-sliced pancetta and bread. I immediately appreciated this dish for its intriguing use of tapioca. Tapioca pearls, just in case you've ever wondered, are starch extracts taken from the South American root plant yucca (also known as manioc). The flavorless pearls lend texture and substance to their accompanying ingredients, offering an ideal enhancement to the simplicity of freshly picked green beans. Preparation of the seemingly simple tubes of green beans, pancetta and bread (which I had the pleasure of doing on countless occasions) required that the green beans be blanched, opened, emptied of their large beans, weighed, measured, trimmed, and weighed again… rendering every dish the same as the next. As with the tapioca, the result is something attractive, delicious and harmonious all at the same time. The pancetta-bread encasing compliments the slightly smoky flavor of the provola, and together with the tapioca and green beans, balances the tender fish with a bit of crunch.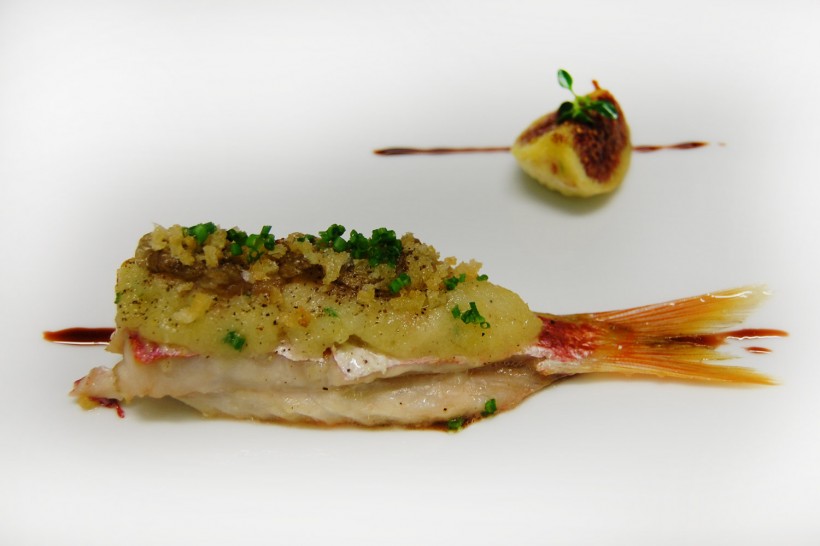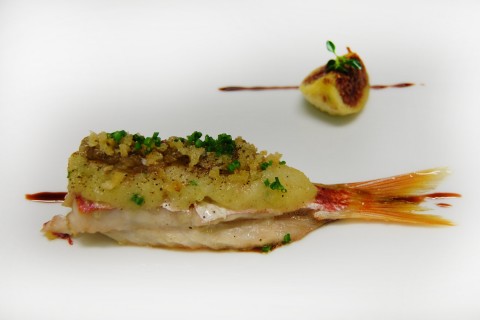 The chef's favorite dish was the red mullet fish. The original pairing of foie gras and beans was substituted during the summer months with potato puree, bone marrow, fig and blackcurrant sauce, demonstrating the chef's regard for seasonality and local ingredients. Not surprisingly, it was one of the most requested second courses of the summer. The mullet's barely-visible shiny exterior and the plate's artistic assembly never ceased to delight restaurant guests.
In August, restaurants in Rome closed down like clockwork, as Italy's official vacation season got underway. Yet chef Glowig decided to use the temporary closure of many of the city's establishments to his advantage. He kept the restaurant open to the city's remaining visitors, and even offered a few new dishes such as risotto with seaweed, oysters and squid, with bergamot and squid ink. Meanwhile, he experimented with ideas for the fall menu.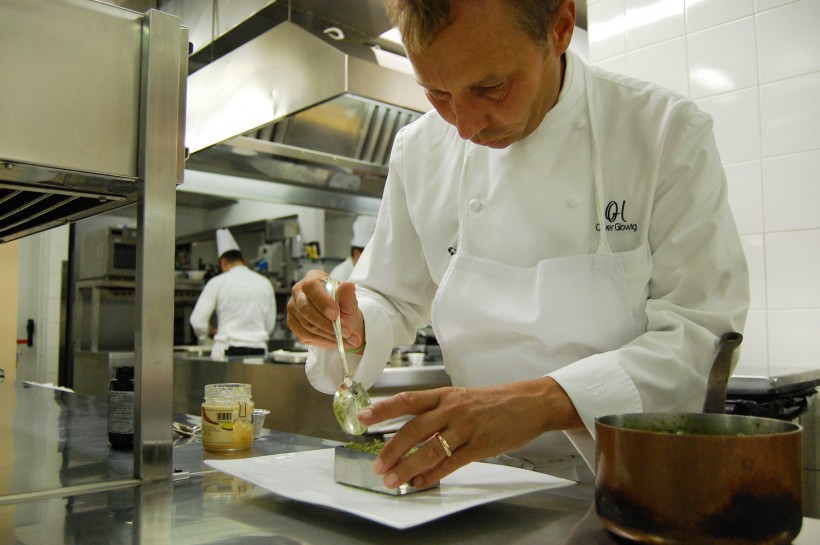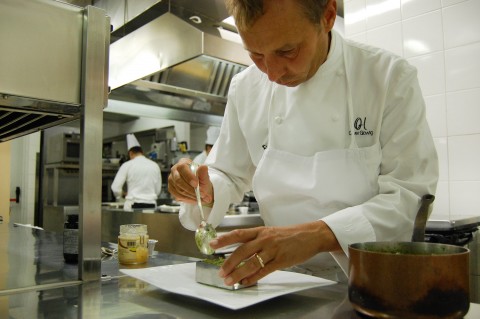 This period of creation helped rejuvenate the chef, whose true talents were demonstrated to their fullest in late summer. After the success of a highly anticipated opening, chef Glowig was able to take a deep breath and reflect for a just a moment before planning ahead. With sous-chef Domenico Iavarone by his side (as he has been for the last eight years), he enthusiastically played around with ingredients from the upcoming season. Iavarone, of course, was official taste-tester during these experiments.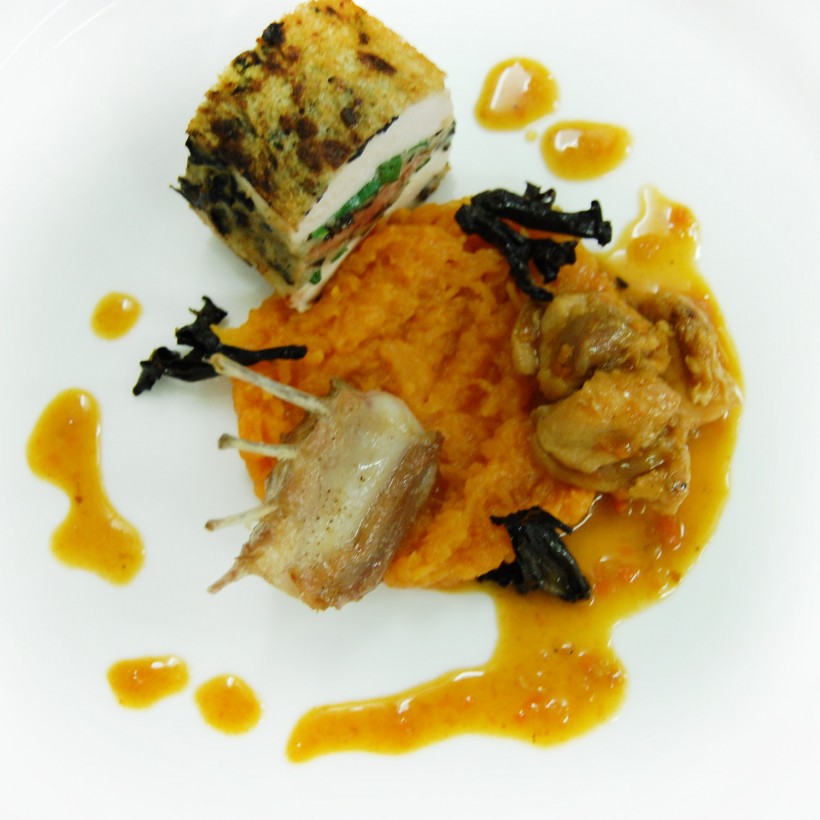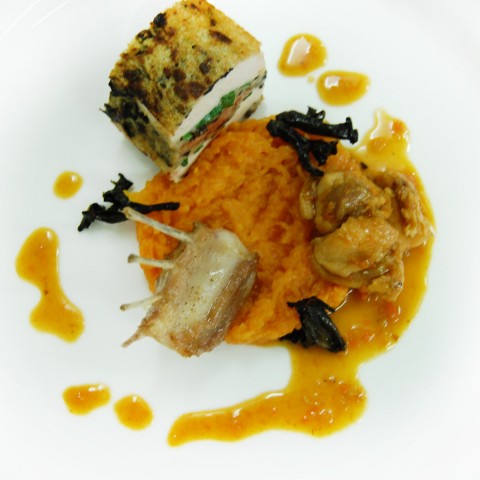 One evening, I arrived in the kitchen as the chef was preparing a dish with rabbit, tarragon, pumpkin and black trumpet mushrooms in a rabbit reduction. One glimpse of this dish had my mouth watering. Then, strangely enough, I felt a longing for fall and my hometown of Portland, which is unbelievably beautiful in the month of October. I didn't even need to taste the sweetness of the pumpkin or the smokiness of the mushrooms to experience this Proustian nostalgia, leaving me impressed that a single dish could evoke so much more than mere hunger. This is one of the many reasons why Oliver Glowig is such an amazing chef.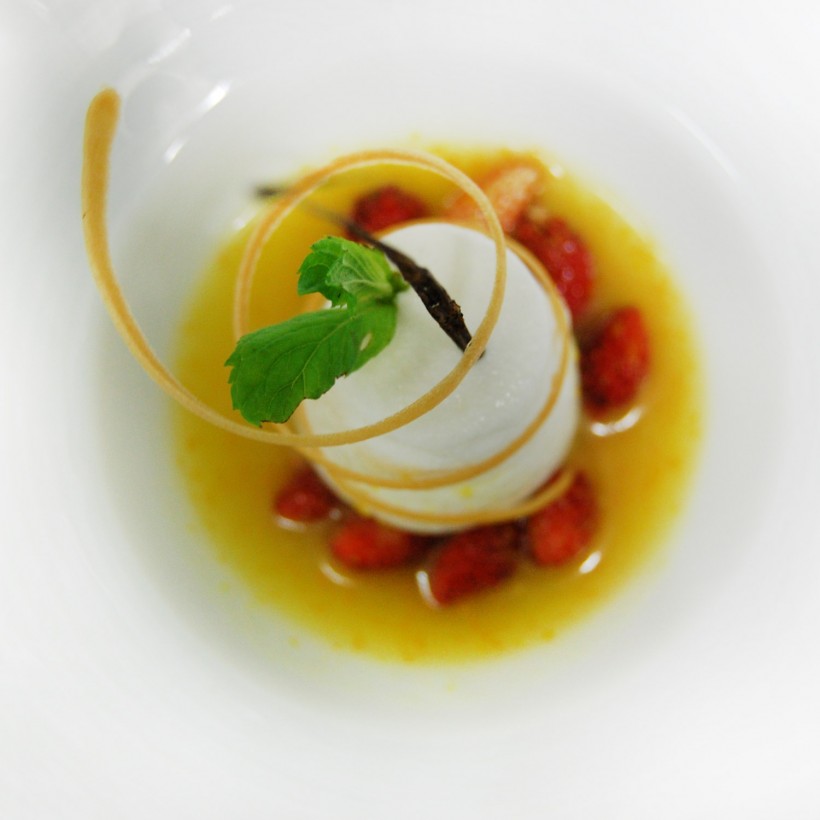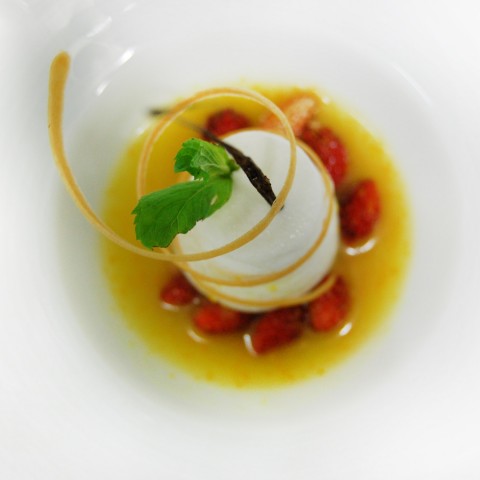 During the last week of my stage the chef gave me his permission to photograph the kitchen, and also agreed to answer some of my questions. Since posing questions is a particular talent of mine, there were many — from his greatest inspiration to what he usually eats at home — all of which he addressed with his usual kindness and sincerity. When I asked what has been the biggest change since settling in Rome, he said that it has undoubtedly been the transition from employee to owner.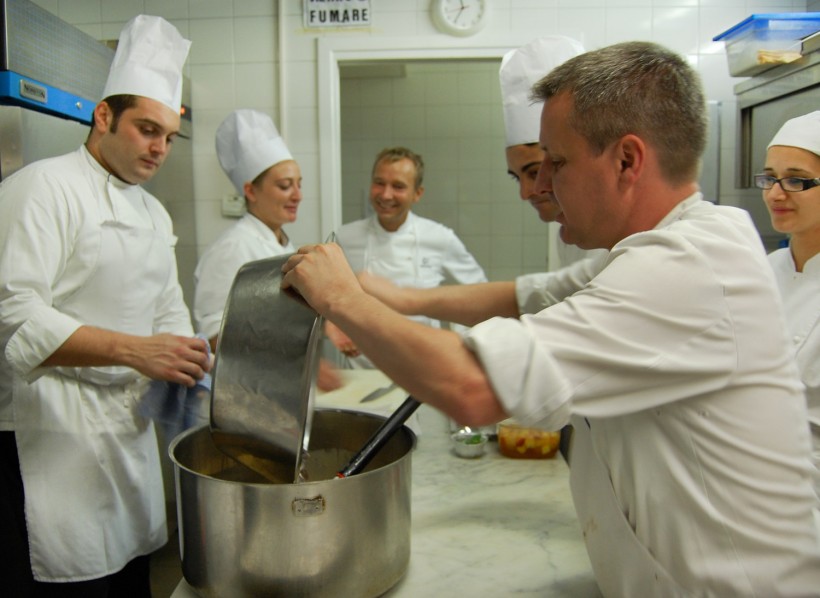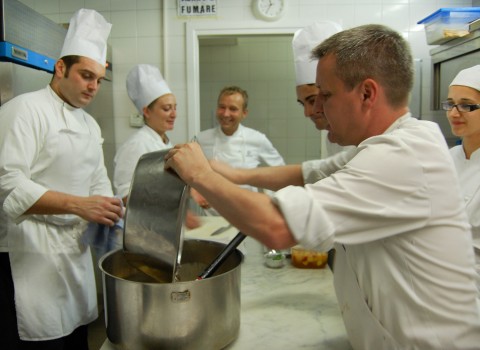 "It's completely different, there are obviously many more things that need to be taken into consideration as owner," he stated. Serving as the restaurant's chef and proprietor has also allowed Glowig to make more influential decisions, such as the recent one to hire French pastry chef and super-talent, Thierry Tostivint. (On a personal note: I demonstrated my approval with this choice every time I invented an excuse to visit the pasty kitchen, where Thierry would offer me a taste of his delicious chocolate fudge accompanied by a few interesting facts on the history of gastronomy.) "I wanted to hire him before, but when I was chef at the Capri Palace I couldn't always make the decisions. Now the restaurant is mine, and if I want to bring in someone truly excellent, I can do so," said Glowig. People in Rome are sure to thank him.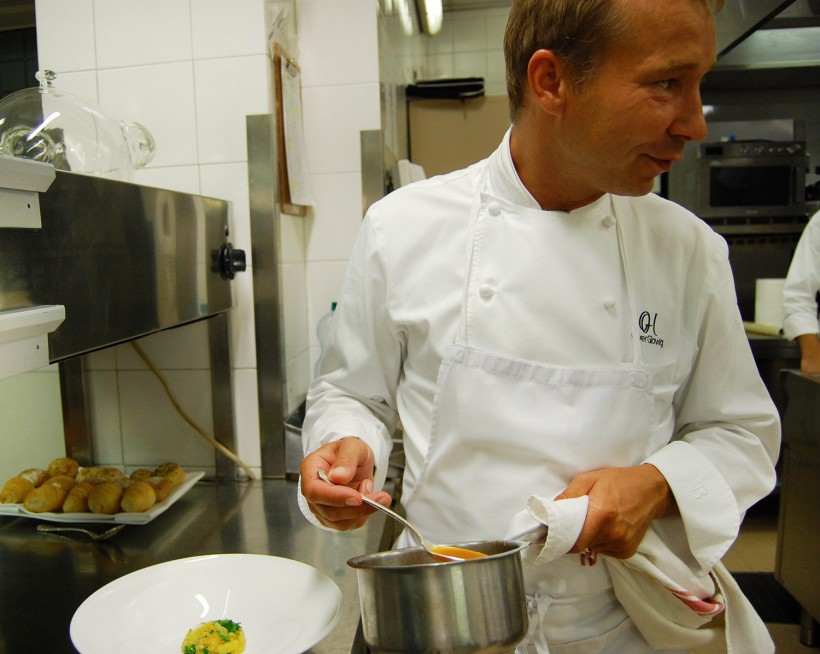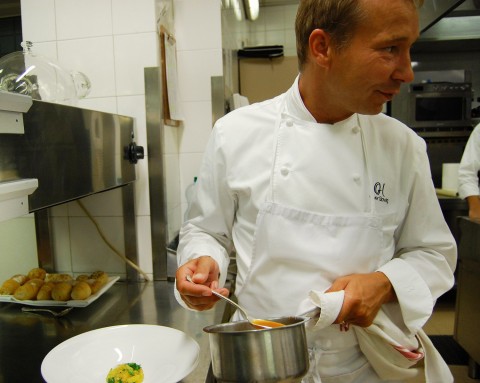 My time spent in the Oliver Glowig's kitchen exceeded my expectation. I witnessed the talent of a great chef, and not only observed, but became a part of the important structure that makes it possible to serve his customers night after night. I gained an appreciation for this structure, which is usually overlooked or underrated in the media's portrayal of top chefs. An essential part of this was Iavarone, who saw to it that every aspect of preparation was up to par with the chef's expectations, took care of the endless list of to-do's that keep the restaurant running efficiently, and proved to be an excellent chef in his own right. Then there were the young chefs who spent countless hours in the kitchen each day, whose dedication to their chef was demonstrated their attention to every single detail — from the cleanliness of their stations to the preparation of their ingredients. The hard work of Daniele Corona, Gioachino Attianese, Salvatore Soldano, Francesco Soldano, and Emilio Antonuccio was therefore indispensable to the chef's successful debut in Rome.
The professional kitchen is a world unto itself. A microcosm, as once described by Gualtiero Marchesi. I would be hard-pressed to find another word which so accurately describes this culinary environment. It is a microcosm not only for the fact that it contains a strict set of hierarchies and procedures, but for its status as the epitome of culinary creation. Every kitchen, every microcosm, has different cultures, methods and stories to tell. Not all of them resemble the writings of Anthony Bourdain or episodes of Hell's Kitchen, yet they are fascinating nonetheless. Thanks to the two months I spent in chef Glowig's microcosm, I can say that behind every great chef is a world that deserves much more of our attention.