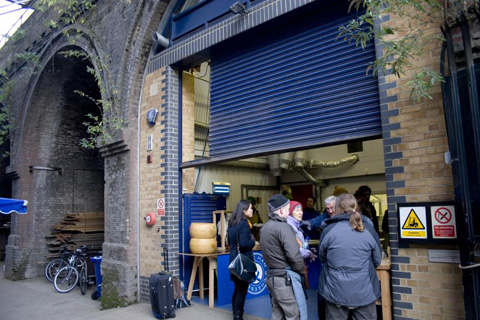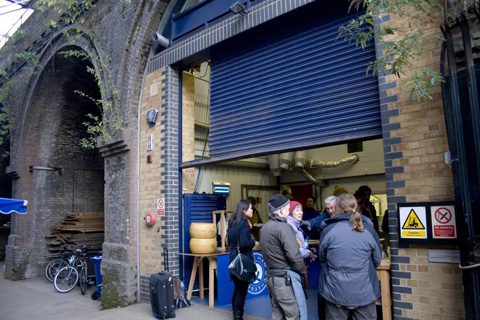 Trains rumble over the elevated tracks in Bermondesy. Below, their hollow arches are abuzz with the activity of food artisans. Monmouth Coffee roasts their beans here. Neals Yard Dairy ages their cheeses. And now, a brewery has joined the ranks. The Kernel Brewery was launched just over a year ago by Evin O'Riordain, a former NYD cheesmonger-turned-homebrewer whose small but thriving operation has propelled him to the top of the city's craft beer heap in no time. Never mind that in London, there are only about a dozen craft breweries. Connoisseurs give The Kernel national ranking.
O'Riordain combines British brewing history (his Export Stout replicates a recipe from 1890), with the experimentation and hoppy extremes of American craft beer production. The results are extraordinary, an exciting collision of tradition and boundary-pushing that has spawned innovations like the brand new Coffee IPA.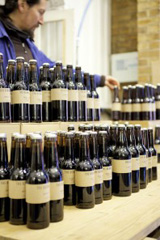 The beer is fruit of collaboration between O'Riordain and the leading London-based coffee roaster Square Mile. The beer employs beans from the Suke Quto Farmer's Association, which is made up of 68 individual farms covering a cumulative 291 hectares. The beans (exclusively heirloom varieties) grow at 1800-2200m above sea level in the District of Oromia in Southern Ethiopia. They impart a slight sweet peachiness to the beer's citrus notes and light body. This (nearly) one of a kind style (Mikkeller just launched Kippo, their own coffee IPA) is a limited edition beer available at select pubs around London. I found The Kernel's Coffee IPA at Mason & Taylor in Shoreditch and at a burger pop-up in Clerkenwell.
Look for Coffee IPA at select pubs in London and at The Kernel Brewery which is open Saturdays from 9am-3pm as part of the Maltby Street Market. The brewery address is 98 Druid Street, but swing around to the visitor entrance at 1 Ropewalk, around the back of the arch, just off Millstream Road. Pop in and see what else Evin's got cooking.
Credit: real-ale-reviews.com, Ming Tang-Evans/timeout.com