A Martian in Rome is a weekly column on Scatti di Gusto in which one or more of the blog's contributors grabs a meal with Qwerty, a native of Mars with a penchant for fine food and wine.
(Testo italiano) The thought of having a fine dining restaurant near my house is at least as novel as dining out with a Martian. Don't get me wrong, I love where I live, but the little corner of Rome where I live—I suppose you would describe it as where Monti, Esquilino and Colle Oppio merge—is sort of a dead zone for food. For years, I have settled for places that are "good for Monti" rather than actually being good in their own right. Now I think that time has finally come to an end, thanks to the arrival of the OS Club.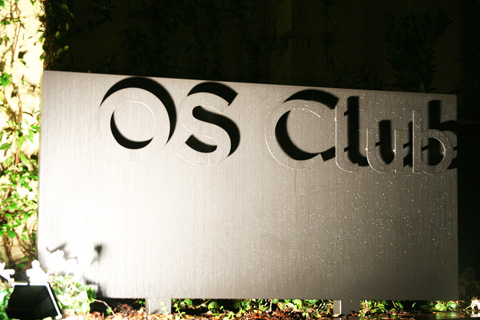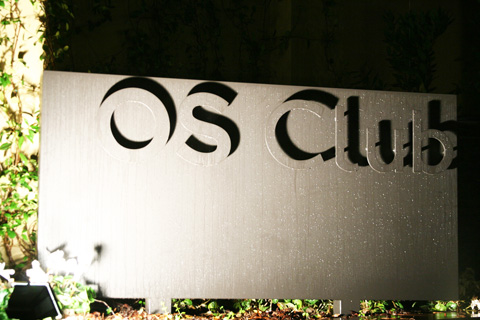 At its entrance, pillars of white light illuminate a desolate and somewhat dodgy piece of Via delle Terme di Traiano, a street named for the ruins of an Imperial bathing complex a stone's throw from the Colosseum. Qwerty had no trouble locating it from his shuttle. Perhaps those pillars are tractor beams? Just past them, a graphite-colored sign indicates the name of our destination, the OS Club, a polyfunctional space that was inaugurated last month. Beyond is a garden studded with tall pines and lawn furniture, trimmed by a low glass enclosure.
Inside, there are two restaurants, a shimmering shared kitchen, and a lounge. The restaurants, Hostaria and Iolanda, are both headed by Chef Davide Cianetti, but they have very different scopes. Hostaria is an informal eatery made up of tables scattered throughout a meandering open room. Iolanda, a fine dining establishment, occupies a white quadrilateral room accessed through a sliding door in the Hostaria. It's private dining room, the "Chef's Hall" is approached through a corridor lined with wine bottles from a different part of the Hostaria. There, guests are treated to a ring-side seat beside the kitchen, visible through a large window, and served by the Chef himself.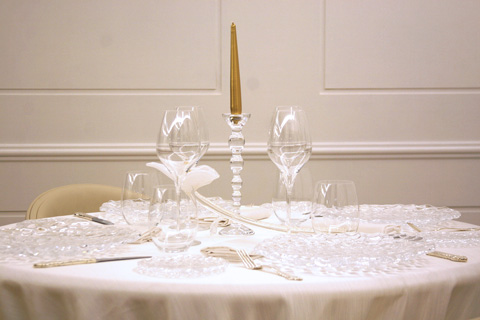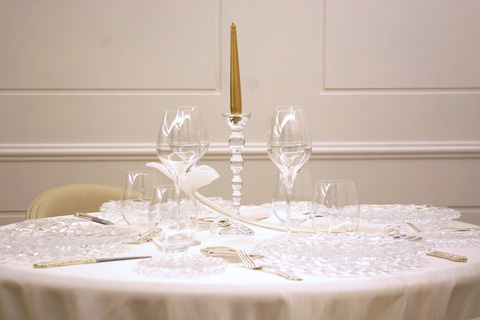 Last week, I joined Qwerty at Iolanda for dinner. Though it opened three weeks earlier to plenty of buzz, we were pleasantly surprised to be the only diners in the sixteen-seat restaurant that night. The paced, ten-course meal, a treat in its own right, was enhanced by attentive but unintrusive service led by award winning sommelier Alessia Meli in a space that had the stark white minimalism of a space shuttle. And sliding doors, to boot. Qwerty was immediately at ease.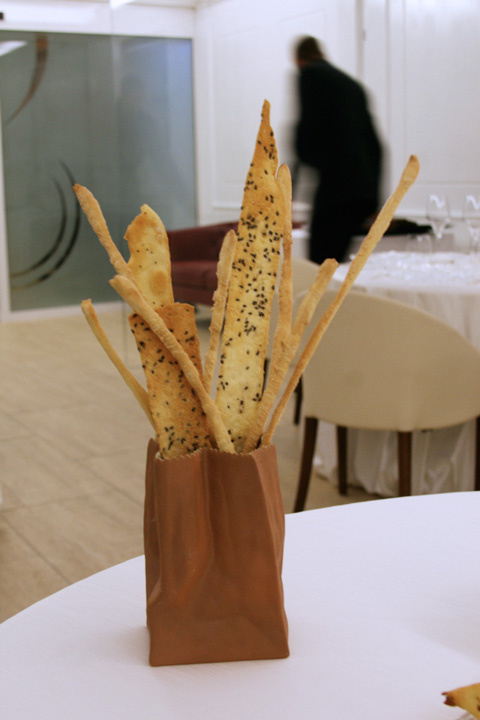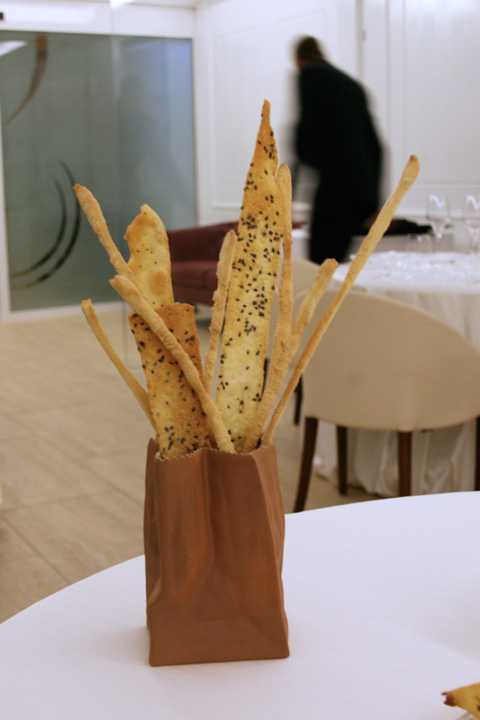 What followed was a meal that was aesthetically pleasing, punctuated with bold flavors, and, though rooted in the ingredients of the Italian peninsula, not limited by it. Spanish, Middle Eastern, and Asian elements were woven in subtly and with an even hand.
The wine list was well structured in a manner that favored terroir over regional distinctions. Italy played the staring roll with appearances by the Loire Valley, Burgundy, and the Mosel Valley.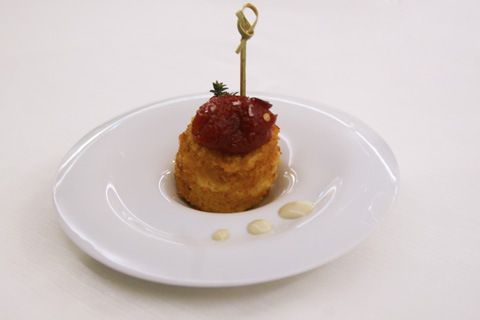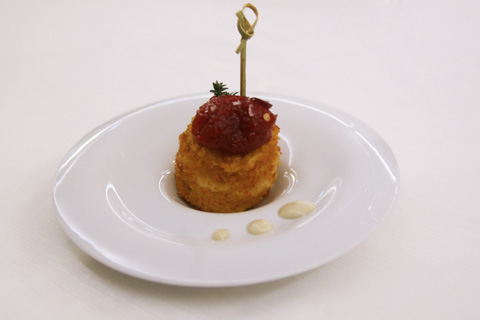 Fried mozzarella stuffed with 'nduja, a spicy spreadable pork sausage from Calabria, served with caramelized Tropea onions and an anchovy sauce. The mozzarella tempered the head of the 'nduja nicely and the whole thing rang like a sweet and tangy ode to southern Italy. Delectable.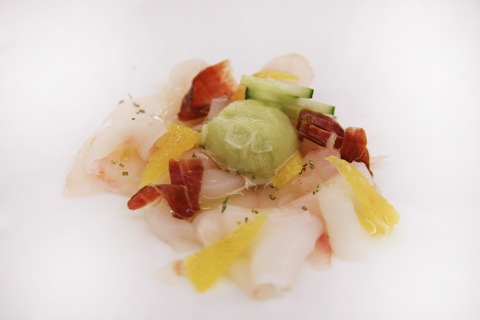 Monkfish carpaccio with thinly sliced oranges, leaves of Serrano ham, and cucumber sorbet. An understated starter that felt like summer on a rainy day. Refreshing.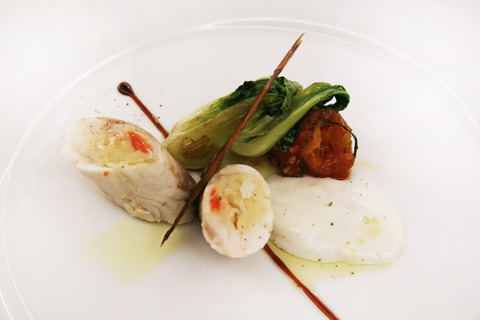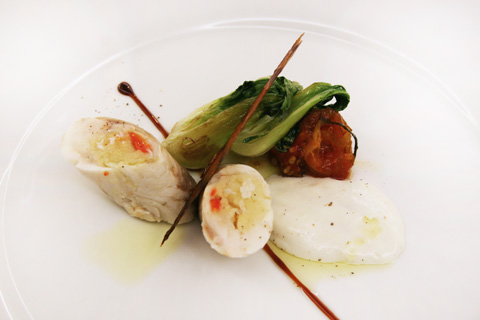 Steamed sushi. Nevermind that the name is an oxymoron. The moniker refers to the aesthetics of the dish, not to the rawness of its ingredients. Steamed white fish filets, which played the part of seaweed in this analogy, were filled with a potato puree and served with a side of semi-sweet tomato preserves and bok choy. Paradoically sublime.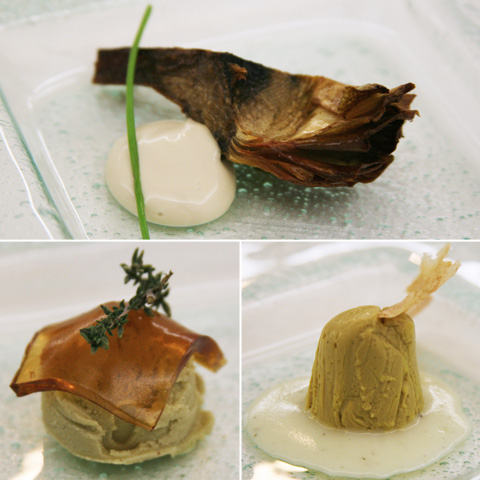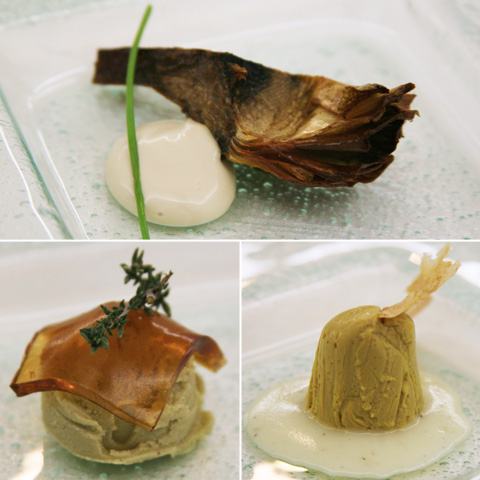 Artichoke four ways. Alla giudia (Jewish style; fried, in other words); chopped bits baked into phyllo dough in what resembled a savory baklava; a rich flan; and a palate-cleansing sorbet with cinar gel. Fun.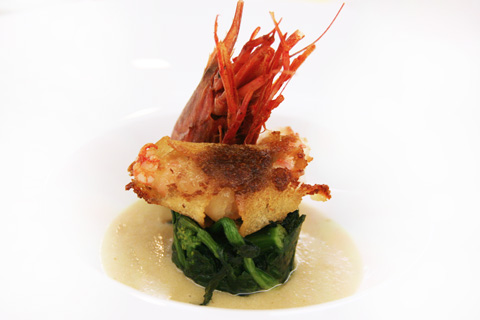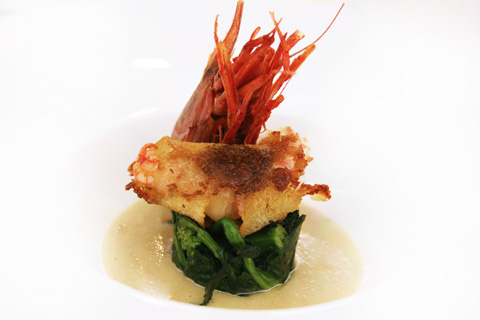 Gallipoli shrimp wrapped in phyllo dough served on a bed of broccoli rabe. I prefer my sweet Gallipoli shrimp nude and the phyllo dough wrapping didn't do this noble creature justice. Flavor cloaking.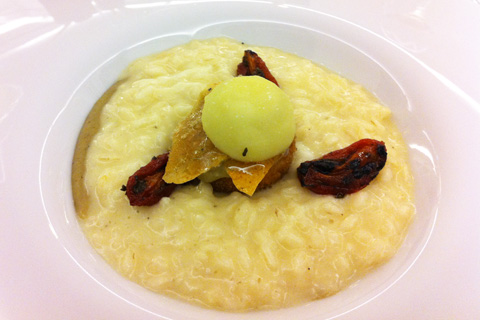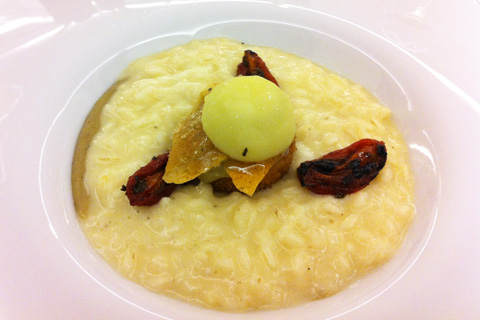 Risotto with smoked mozzarella and smoked eggplant puree and sundried tomatoes. A creamy, smokey, savory dish with depth. A major hit.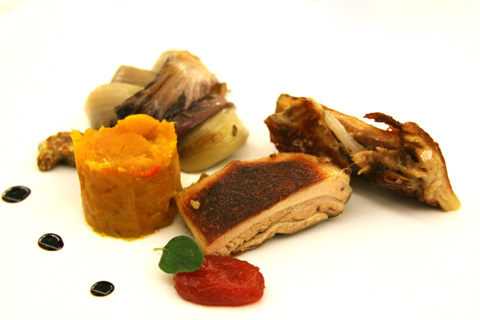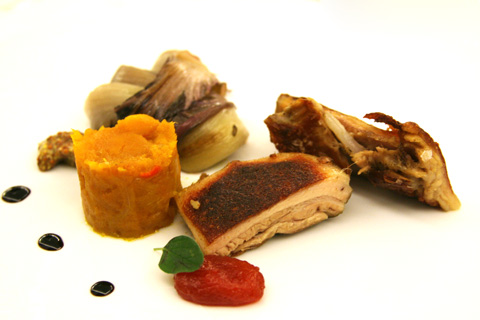 Crispy organic pork with pumpkin chutney and mustard. The crispy outer layer of the pork gave way to moist and flavorful meat with a nice fat content. The mustard and chutney pairings were perfectly engineered. Exceptional.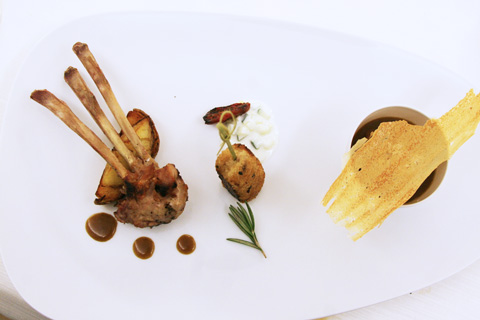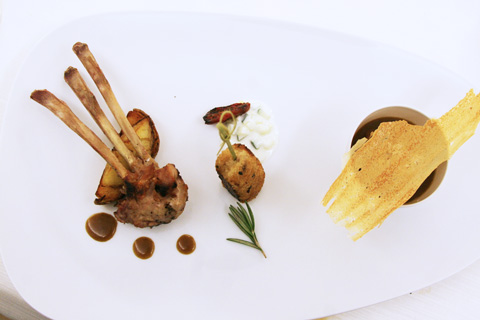 Lamb three ways: a grilled lamb chop, a breaded kofte, and a chunky soup. The kofte breading was slightly soggy, but the lambchop meat was tender and sweet, while the soup was hearty and well seasoned. Mostly good.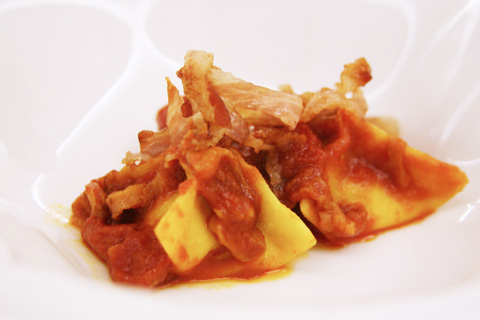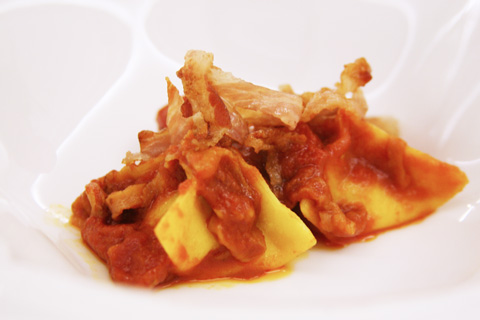 Tortelli filled with cacio e pepe (aged sheep's milk cheese and black pepper sauce) served with an amatriciana (pork jowl and tomato sauce). Surprisingly this pasta dish came after the meat dishes, a fact that went against what Qwerty had learned about Roman coursing in his previous jaunts. The collision between two classic Roman condiments was uninspiring. Underwhelming.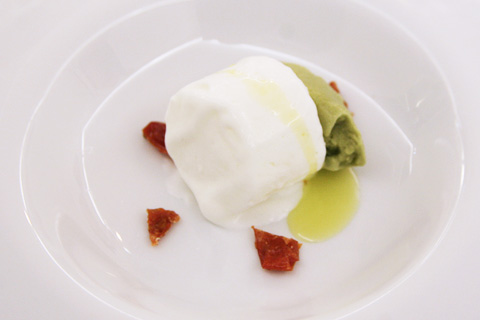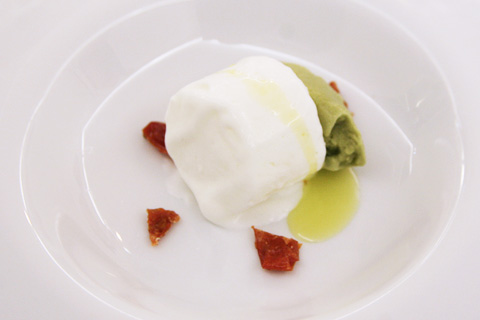 Mozzarella semifreddo with basil gelato and candied tomatoes. An interesting take on the cheese course. A playful and successful dessert that proves, once again, that cheese is always a good idea. Shockingly good.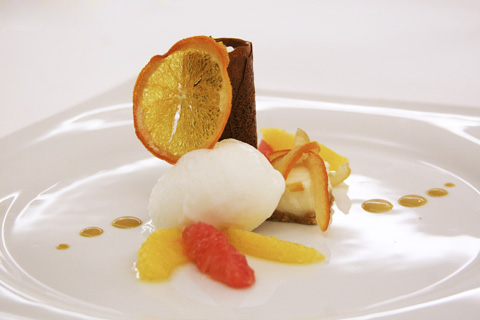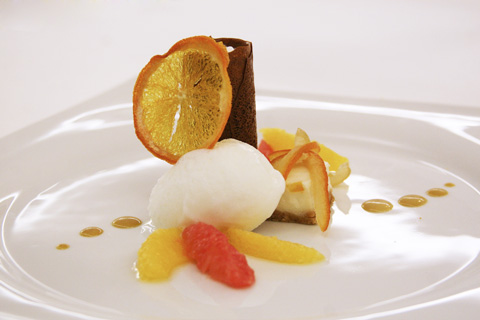 A citrus triptych: Lemon cheesecake, cannolo filled with citrus cream and a lemon sorbet garnished with citures wedges and candied orange. Refreshing.
So the outcome? A meal with more highs than lows with near-flawless service. A promising and welcome addition to the neighborhood. Considering the bill came to €110 per person for the ten-course menu, plus another €55 for wine pairings and water, I won't be dropping into Iolanda three times a week. But, I will be checking out the Hostaria and Sunday brunch, both of which seem like much more accessible alternatives that could make OS Club my local haunt.
Iolanda. Via delle Terme di Traiano, 4A – Roma. Tel+39 06.48930379
Iolanda is open Monday through Saturday from 7pm-midnight