Warning: If you have any intention of dining at The Fat Duck in the near future, stop reading immediately. A major part of the enjoyment of Heston Blumenthal's legendary three Michelin star, award studded restaurant are the bits of pageantry and fantasy that are seamlessly woven into the meal from beginning to end. While some dishes do change with the seasons, others remain on the menu for consecutive seasons, even years, so reading any further could jeopardize the pure pleasure of anticipation that punctuates Blumenthal's 13-course 4-hour meal.
Last week, as the whole of London was abuzz with the opening of Dinner by Heston Blumenthal, I made a trip out to the great British chef's first restaurant, The Fat Duck.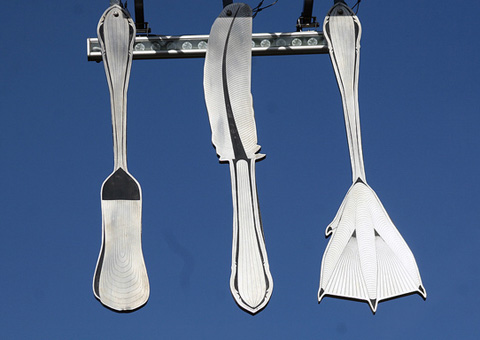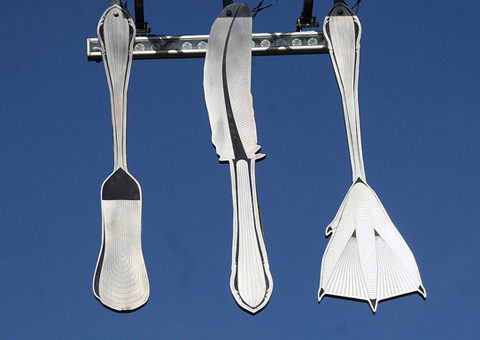 Blumenthal, a self-taught chef, opened The Fat Duck in the medieval town of Bray in 1995. At that time, it was a simple French bistro with virtually no staff and certainly no accolades. Over the years, it has gained international renown, clinched three Michelin stars, and is consistently ranked among the world's top restaurants.
First off, some logistics. The Fat Duck is located due west of London. Getting there is a cinch. Just take the train from Paddington Station to Maidenhead (10GBP round trip) then grab a cab outside the station. The trip to Bray takes around 10 minutes and costs 6GBP. The taxi will deposit you on High Street in front of The Fat Duck. I recommend getting there around 30 minutes before your reservation for a walk around the town and a drink at Heston's pub The Hinds Head.
Upon arrival at The Fat Duck, you will be accompanied to your table and presented with the menu, a 13-course affair priced at 160GBP per person. There are also several wine pairings to choose from, ranging in price from 95GBP to 340GBP per person. There is also an extensive wines by the glass list, with prices ranging from around 16-48GBP per glass. There is also an assortment of liquors and sakes to choose from. All prices exclude a 12.5% service charge. There are only around 10 tables in all, for a total of 45 covers. Reservations should be made well in advance.
The meal that follows is a lesson in contrasts in which colors, flavors, temperatures, and textures are juxtaposed. But what makes The Fat Duck so special is the effortless harmony between molecular gastronomy and traditional English recipes. Here is how the meal unfolded one dish at a time…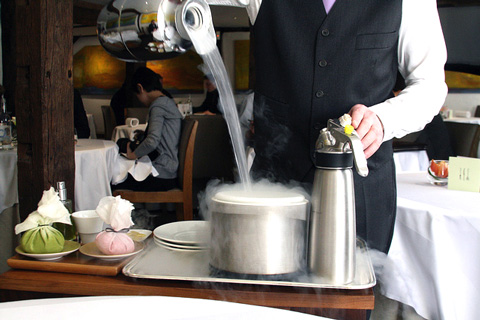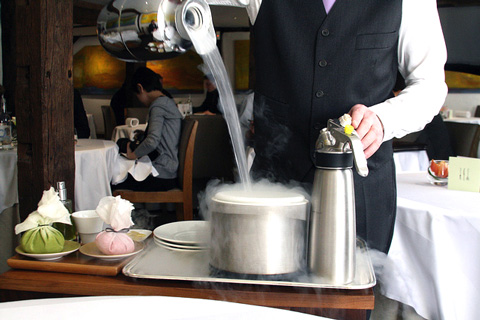 Nitrogen poached aperitifs (choice of vodka & lime sour, gin & tonic, and campari soda). The server poached the alcoholic foam of my choice—campari soda) in liquid nitrogen and gave me the frozen ball to eat with my fingers. The outside as hard and crunchy and inside was liquidy.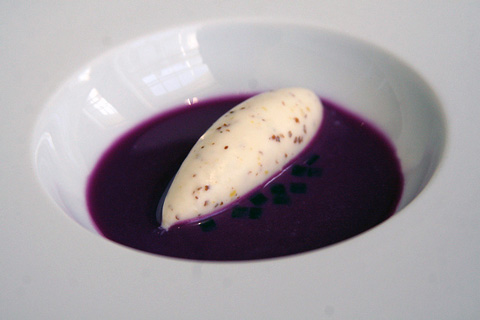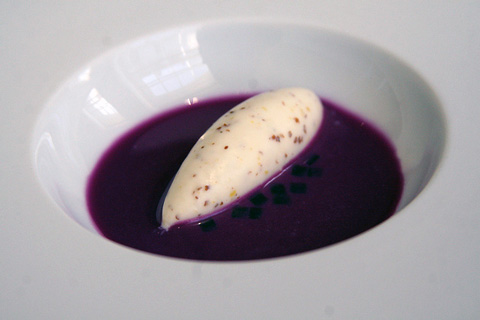 Red cabbage gazpacho with bits of cucumber and Pommery grain mustard ice cream.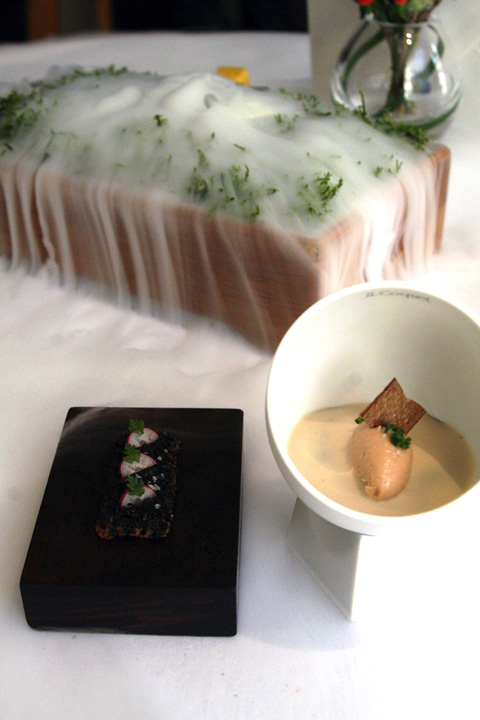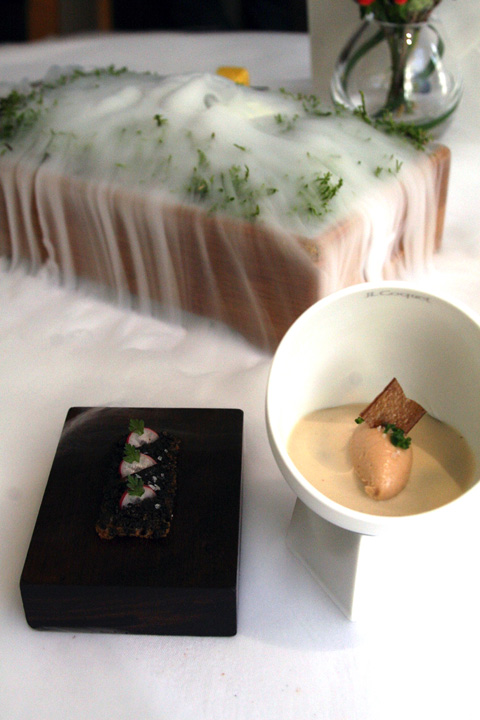 Jelly of quail and crayfish cream were layered in a cup and topped with a scoop of chicken liver parfait. This was accompanied by truffle toast and a centerpiece of steaming oak moss. After delivering the plates, the server sprayed an oak scented perfume over the table after serving, further emphasizing the forest theme of the course. This course is an homage to Alain Chapel, the French chef whose cuisine has profoundly affected Heston's style.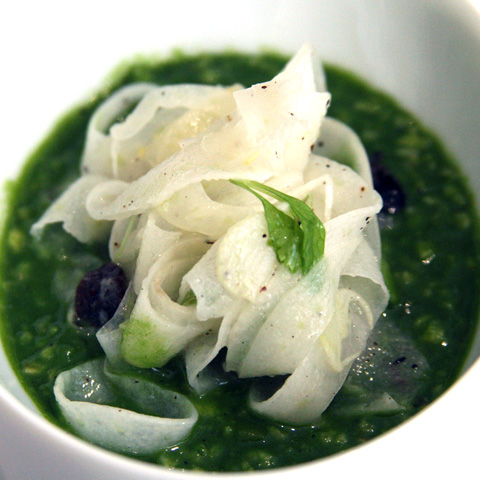 Snail and parsley porridge with shaved fennel.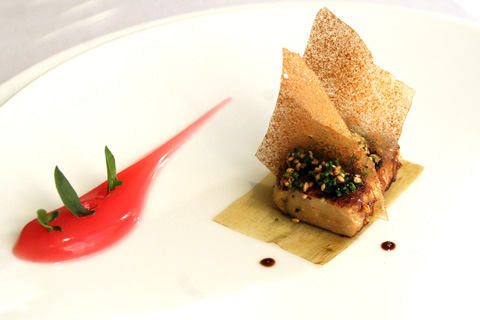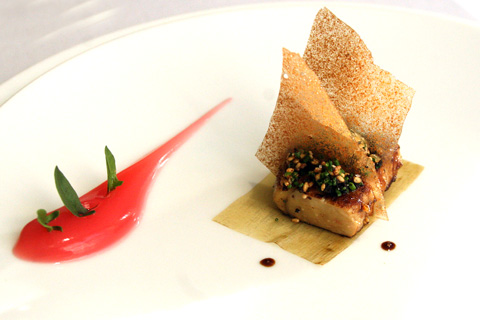 Roast foie gras, rhubarb, braised konbu and crab biscuit.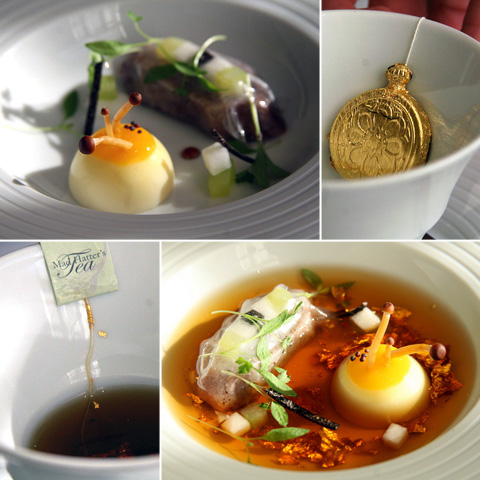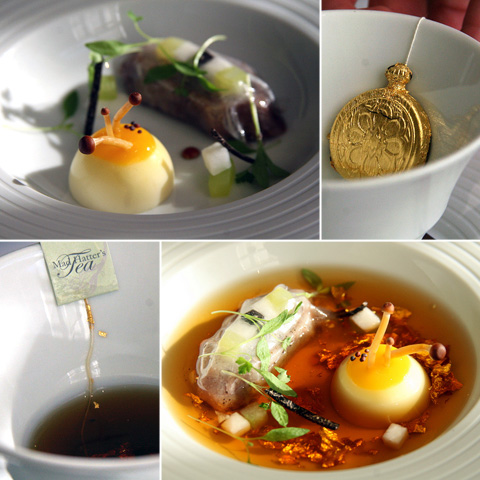 Mock turtle soup (a recipe from 1850) and "Mad Hatter Tea", where history and fantasy collide. Mock turtle soup was popular during the Victorian age amongst the masses who could not afford the prohibitively expensive turtle meat used in the "real" turtle soup recipe. The so-called mock turtle soup consisted of a consommé and with bits of meat from the head and hooves of veal or cow. At The Fat Duck, a bowl with bits of veal head and a mock turtle egg (turnip mousse and swede purée) arrives at the table along with a teacup of hot water and a golden clock. The "clock" is dipped into the water, just as the Mad Hatter did at his tea party in Alice in Wonderland, and it dissolves, producing a broth with bits of gold fleck floating around. This is poured into the bowl and the mock turtle soup is ready to eat.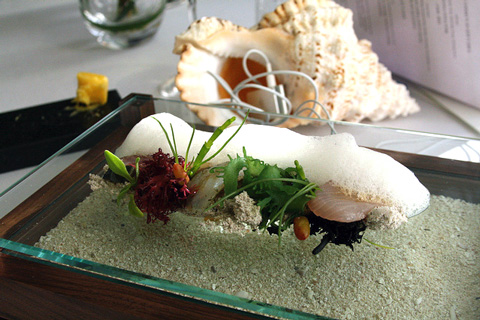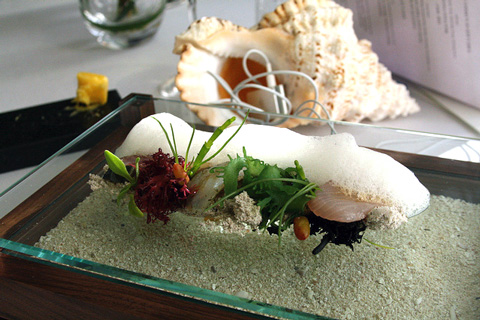 Sound of the Sea was a plate of glass upon which three pieces of sashimi (halibut, yellow tail and mackerel) were caught up in the surf in which the "sea foam" was made from seaweed stock and "sand" was a blend of tapioca and fried eels. The course was accompanied by a seashell inside of which was an ipod nano that played the sounds of the sea.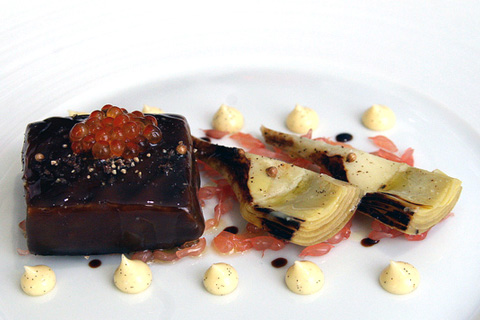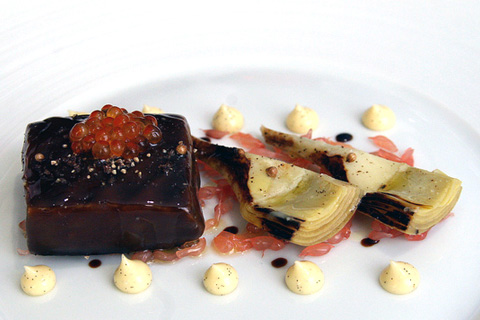 Salmon poached in a liquorice gel with artichoke, vanilla mayonnaise and golden trout roe.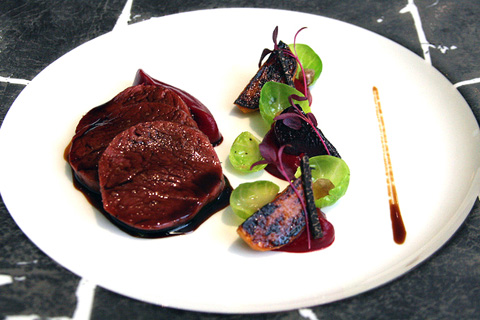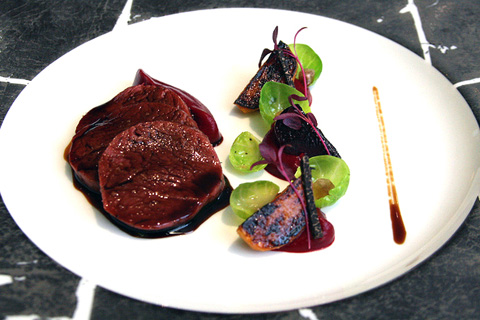 Saddle of venison with beet root soubise, risotto of spelt and deer offal, and black truffle.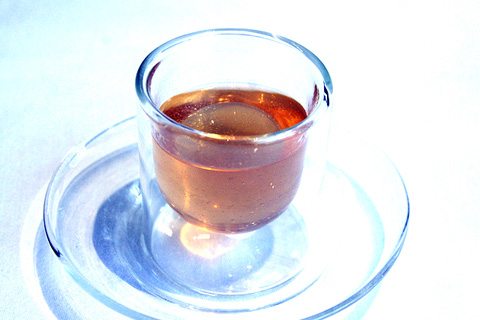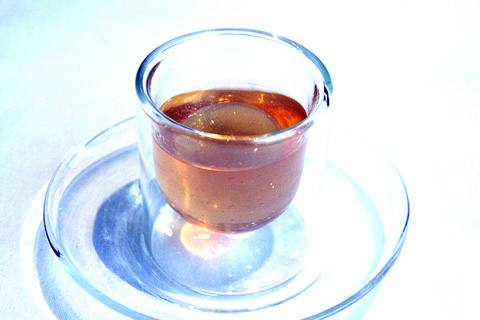 Hot and iced tea: hot tea and iced tea are placed in the same glass and coexist without mixing. The teas are not really liquids, but in fact a bit thick and different consistencies so they don't mix together.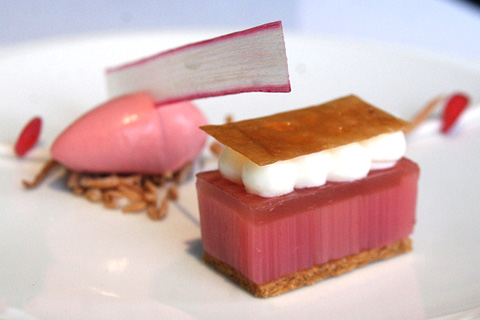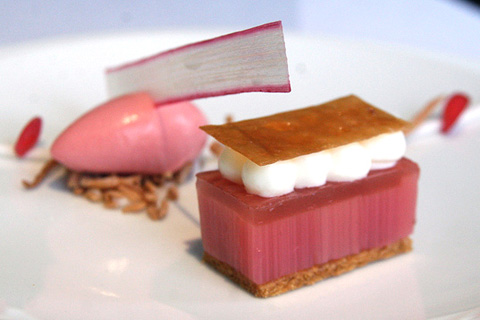 Gallette of rhubarb with neroli scented yogurt and rhubarb sorbet.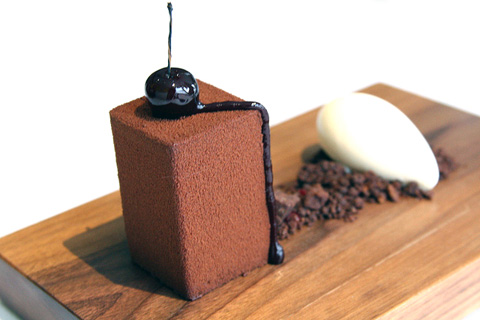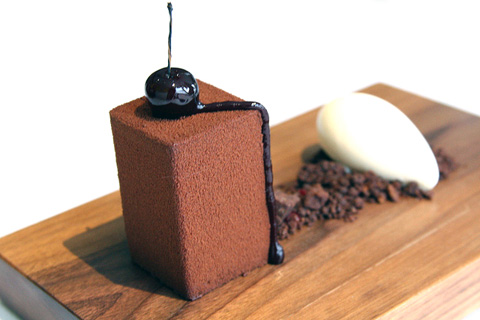 The "BFG": Black forrest gateau with kirsch ice cream.
"Like a kid in a sweet shop": a bag of treats that is inspired by 1960s candy shops and includes a candy shop scented card listing the contents.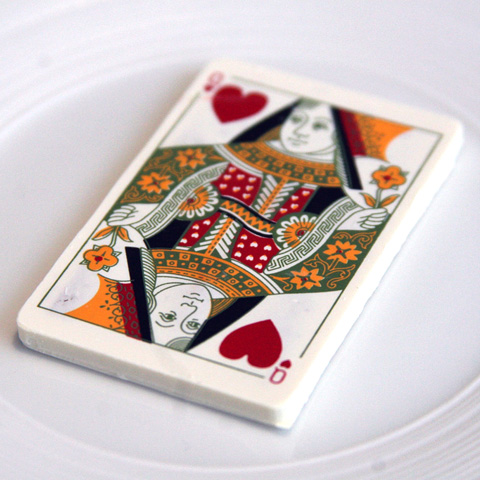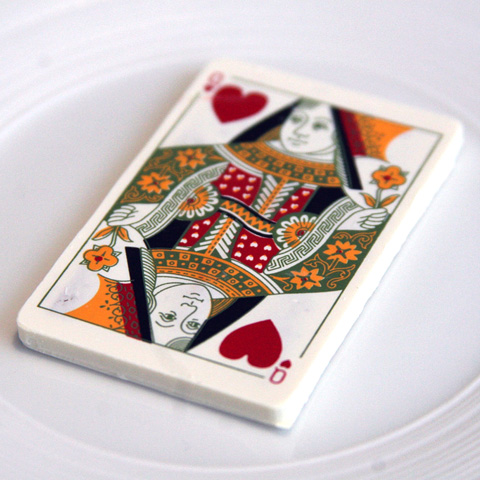 The Fat Duck. High Street Bray. Berkshire SL6 2AQ. Tel. +44 (0) 1628 580 333